The History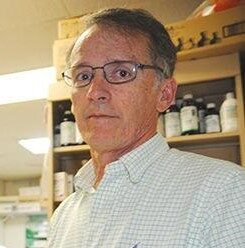 The legendary Don Colcord was the beloved pharmacist at the iconic "The Apothecary Shoppe" located in downtown Nucla CO. To learn more about Don and his legacy please read this article from The New Yorker. https://www.newyorker.com/magazine/2011/09/26/dr-don
When Don retired he sold the business but retained ownership of the property. The new pharmacy owner eventually moved the business to Montrose Colorado. This left the space available for other adventures. Little did Don know what that new adventure would be.
The Beginning
I, Cassandra, had been a certified Compound Tech at The Apothecary Shoppe for 10 years, working both for Don and the new ownership. When the business moved, I went to work at the Hoof and Paw Thrift store in Naturita.
One August day in 2021, Rosella Chiles came into the thrift store. I started a conversation that Rosella was less than engaged in, until Rosella found a hope chest/coffee table. She looked at it and said, "Think of all the things you could store in that." I replied, "I would put quilts in there." And thus began a conversation that lasted well beyond closing time as we realized we both shared the same passion for quilt-making.
Rosella had a successful quilting business in Montrose but had since married a local rancher, whom she called "The Handsome Cowboy", and is living on a ranch north of Nucla. She was commuting to Montrose to work and wished she had a place in Nucla to move her studio to. I quickly realized there was a perfect place to do this, the now empty Apothecary Shoppe.
Rosella and I met for coffee at the local restaurant. Consequently, we walked up main street to look at the building. We were discussing what to name the new adventure when we looked up at the old Apothecary Sign, and inspiration struck. The name would be "Art at The Apothecary". The logo would be a barn quilt with a mortar and pestle with Don's initials on it. After all, to those in Nucla it will always be Don's Apothecary, and we wanted to honor that. I met with Don to discuss the adventure, he was thrilled to see that his place would no longer be empty and that he would be honored as well.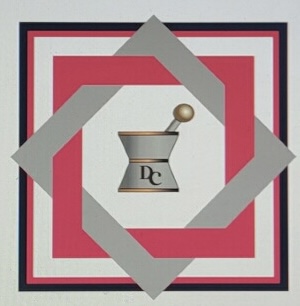 Then the work began. We set to getting the building in order and Rosella moved her studio from Montrose to Nucla, donating it to Art at The Apothecary. The rest of the story is in the making, we cant wait to see what the future holds.