Our quilting/crafting retreat facility offers custom-fit retreats and hideaway opportunities, complete with lodging at the Vestal House. (420 Main St., Nucla) https://www.vestalhousenucla.com/

The main work area can accommodate up to 14 quilters with ample table space and chairs. We also have 3 ironing stations and floor-to-ceiling design walls. Other amenities include a kitchen and 2 bathrooms. Fifth Avenue Grill and Saucy Mamas, are just steps away for those who wish to order in.
https://www.facebook.com/5thAveGrill
Longarm classes and rentals are available during retreats. Reservations are required in advance.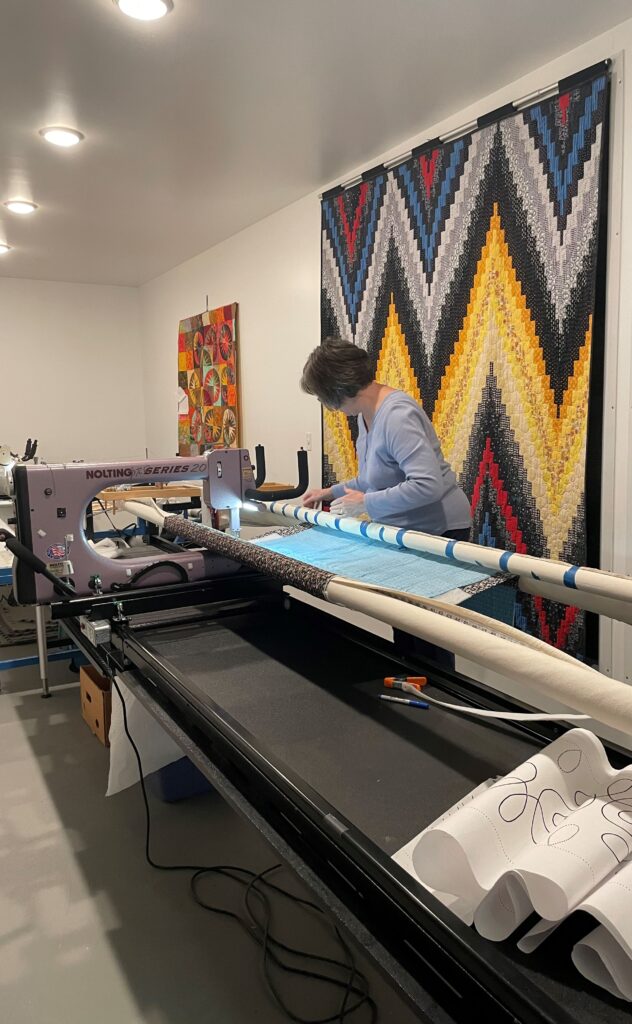 If you're interested in a retreat or hideaway please contact us.
Quilting Retreats (2-5 days)
Retreats for up to 14 ( and more if there are hand-sewers) with sturdy wooden sewing tables, cutting stations, and up to 3 pressing stations. There are large floor to ceiling design walls and portable design walls available. The kitchen has a full-size fridge and microwave, crock-pot, hot plate, coffee grinder and coffee maker. There is table space for serving meals.
Cost: Starts at $40/day per person unless you have a membership (for example: a Friday-Sunday retreat would be $80, 2 full days of sewing). Check-in at Apothecary -anytime after 11 am.  Check-out on Sunday: 2 pm (later if the schedule allows)  
Retreatants can upgrade to long-arm classes and rental, depending on availability.
Minimum to reserve the Apothecary for a retreat: 6
Lodging/rv space is available at the Vestal House/Tooker properties.
Hideaway info
Hideaways are for those who just need to get away, and have some quiet time and a lot of space to work. It allows a quilter/crafter to spread out, really dig into a project, and get 'er done.
Hideaways only require ONE person to reserve a space, and maximum is as many as you are comfortable with, However, 8 is the recommended limit. 
Long-arm rental (for those who are qualified) is available during a hideaway.
Cost: Starts at $40/day per person unless you have a membership.  A 'day' means dawn-to-dusk or 24 hr. day (for example 1 pm to next day 1 pm).  Reserve 2 'days', 3rd day is $10/person to extend the hideaway.
Lodging/rv space is available at the Vestal House/Tooker properties. https://www.vestalhousenucla.com/